​

BACP
​
Register
The BACP Register is the first psychological therapists' register to be accredited under a new scheme set up by the Department of Health and administered by an independent body, accountable to Parliament.
Members of the public can now choose a counsellor or psychotherapist belonging to a register approved by the Professional Standards Authority for Health and Social Care.
I am a Registered Accredited Counsellor with the BACP, this acknowledges my level of competency and ethical practice as an independent practitioner.
​

​
​
Proficiency
In 2011 the BACP, British Association of Counselling and Psychotherapy, trialed a proficiency certificate. I took part in the trial in July 2011, and I passed.
The aim of this, as far as I understand it, is to ensure a consistency of counsellor abilities and knowledge as part of the move towards greater accountability of counsellors; and is designed to further reassure you of the quality of counsellors and their practice.
​
​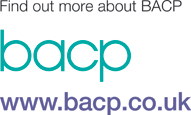 ​