There are many different ways of practicing counselling and psychotherapy, psychoanalysis, Cognitive Behavioural Therapy, Gestalt, Person-Centred counsellling. Different schools of counsellors and therapists will argue for the effectiveness of their particular method. At the moment in the UK the NHS tends to recommend CBT above most other ways of working.
​
However, research suggests that the various legitimate methods all are effective and that it is therefore often wise to read around the different types of therapy to see which appeals to you most.
​
I see myself as an integrative counsellor and a Focusing-Oriented Psychotherapist. Integrative counselling is a way of using several different ways of working in a single approach. Thus my training included psychodynamic, person-centred, CBT and systemic approaches. I have done further training in Focusing and have incorporated this as one of my main 'avenues' of working.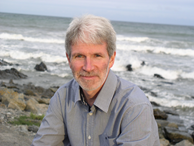 ​
To me it is important that I work with you collaboratively, that we work together rather than my telling you what we should be doing. Thus I use a very simple method to check at the beginning and the end of each session whether we are working in the areas you want, and whether we are working in the ways that you want. I am very keen to adapt my approach to you, rather than to force you to work in a prescribed way.
​
Thus I will encourage you to give me your thoughts on how the counselling is going, and to reflect on what seems to be working for you.
​